I propose you to discover together the great classic races of the Oisans massif: the East Meije, the West Rake, the Bar and the Snow Dome of the Ecrins, the Crossing of Pelvoux, the East Wing, the Peak Coolidge, Great Ruin, Lambs, Rouies, etc. em>
We can also visit the great peaks of other classic alpine mountains: Mont Blanc, the Aiguille du Tour, the Aiguille d'Argentière, the Domes de Miage, the Grand Paradis, the 4000m of Mont Rose, the 4000m from Saas Fee, etc. em>
Races of snow, ice and mixed, easy level (F) and little difficult (PD), to learn about mountaineering and discover the wonderful alpine peaks.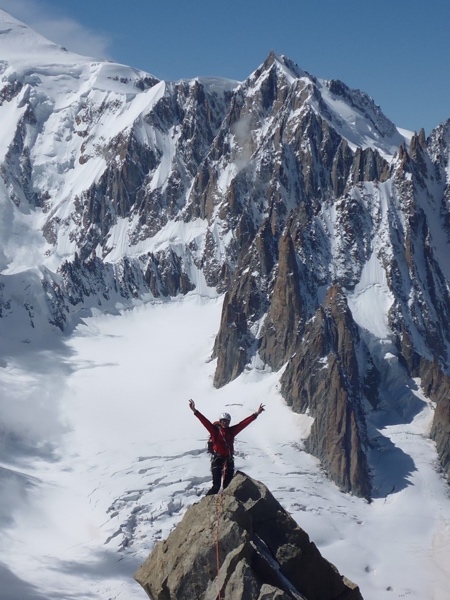 Technical Mountaineering/p>
I propose you to realize together the great technical races of the massif of the Ecrins: the Traversée de la Meije, the Crossing of the Bar of the Ecrins, the Ridge of Coste Rouge with the Ailefroide, the South Ridge of Petit Pelvoux , the Candau Pillar at Rake, the Edge of Filmmakers, the North Edge of Sirac, etc. em>
We can also climb the other technical summits of the surrounding alpine massifs: the crossing of the Grandes Jorasses, the Rochefort ridges, the Monk's Ridge at the Aiguille Verte, the Kuffner at Mont Maudit, the Matterhorn, the Dent Blanche , etc. em>
From varied races of quite difficult level (AD) to very difficult (TD), to improve in complete safety, to acquire more autonomy or simply to realize a mountaineer's dream.
I propose you to go together the most beautiful granite tracks of the Alps.
We can enjoy the excellent granite Chamoniard: the Grand Capucin, the Aiguillle du Midi, the Little Jorasses, the Aiguilles de Chamonix, the Aiguilles Rouges, etc. em>
But the Oisans also offers beautiful routes on exceptional granite: Aiguille Dibona, Tête du Rouget, the northern peak of the Cavales, Aiguille de Sialouze, the Foothills of the Bans, etc. < / em>
Rocky channels in compact granite, of all lengths and all levels, from quite difficult (AD) to extremely difficult (ED), for the pleasure of the hands but also the eyes.